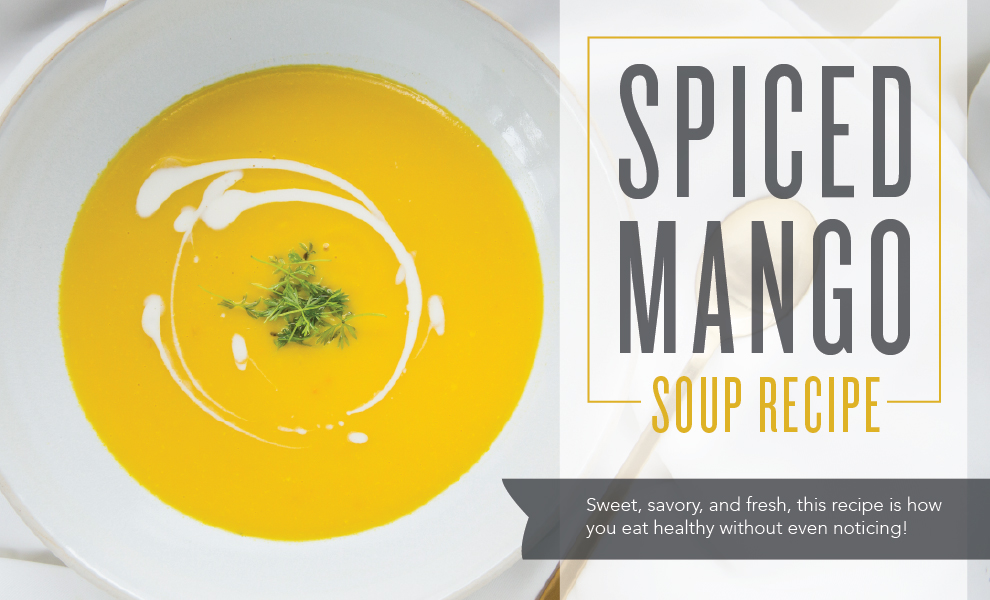 We can't get enough of using ripe mangoes in easy and healthy food recipes—from mango salsa to mango-banana smoothies. That's why this easy, healthy soup recipe is one of our favorite recipes featuring the late-summer treat. With a pinch of heat from chilies, richness from coconut cream, and a punch of flavor from Vitality™ essential oils, this fresh and bright vegetarian soup recipe is a delicious first course for a Thai-inspired meal to impress friends or a quick-prep, easy dinner idea for busy weeknights.
Spiced Thai Mango Soup Recipe
Ingredients
2 tablespoons butter or unrefined coconut oil
1 medium yellow onion, diced
2 cloves garlic, minced
2 large ripe mangoes, peeled and diced
1 quart vegetable broth
1 chili pepper, seeded and minced
1 bunch cilantro, stems removed
4 tablespoons coconut cream, whipped
2 drops Lemongrass Vitality™
1 drop Cinnamon Bark Vitality™
Pinch of white pepper
Pinch of salt
Instructions
In a large saucepan over medium heat, melt butter or coconut oil. Add onions and sauté until translucent.
Add minced garlic and sauté until aromatic.
Add diced ripe mangoes, vegetable broth, and chili pepper.
Reduce heat and let simmer for 15–20 minutes.
Whip coconut cream; set aside.
Pour broth mixture into a blender and puree until soup-like.
Add cilantro then blend again and pour back into saucepan.
Add essential oils to the whipped coconut cream.
Gently stir the cream into the soup.
Add salt and pepper.
Serve and garnish with fresh cilantro.
https://www.youngliving.com/blog/spiced-thai-mango-soup-recipe/
COPYRIGHT (C) 2017 – ALL RIGHTS RESERVED – YOUNG LIVING